Golson's Mission
Statement:
BUILDING FOUNDATIONS
FOR ACADEMIC SUCCESS
Congratulations!
Mrs. Ashley Rackley: Golson's Teacher of the Week!
(see Highlights section below for info on voting)

Feb. 25 "go-pher" Run/Walk
Feb. 27 Jump Rope for Heart
Feb. 27-March 3 Dr. Seuss Week
Feb. 28 Bring in 10 box tops
March 7 P.T.O. Meeting at 5:30
March 7 Eat at Sonny's fundraiser
March 15-17 Field Days
March 15 End of 3rd 9 weeks
AR Goals due to Mrs. Connor
March 20-24 Spring Break
March 31 Bring 10 box tops
Report Cards go home
April 4 PTO Meeting at 5:30
Eat at Sonny's fundraiser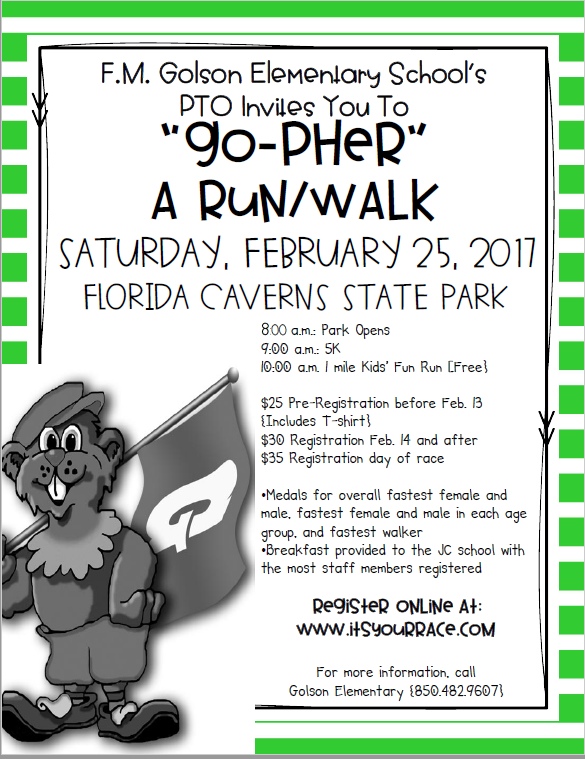 Here is the link to register online for the run/walk:
Feb. 27-March 3
Mon. Cat in the Hat Day: wear your favorite hat
Tues. Fox in Socks Day: wear crazy socks
Wed. Wacky Wednesday: wear wacky clothes
Thurs. Lorax Day: wear orange
Fri. Seussical Celebration: dress up as your favorite book character
Help our school earn funding!!
When you shop at Officemax, be sure to mention that you would like them
to donate 5% or your purchase for Golson!!